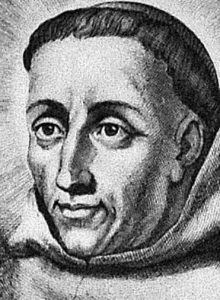 On 28th July (Discalced Carmelites) and 24th July (O.Carm) the Carmelite family celebrates the feast of Blessed John Soreth (c.1395 – 1471), Prior General and reformer of the Carmelite Order. He is especially important for Carmelite nuns since he was responsible for first admitting women to the Order and encouraging the creation of Carmelite communities for women.
John (Jean) was born around 1395 near Caen in Normandy and entered the Carmelites there. He received his doctorate at the University of Paris in 1438, was elected Prior Provincial of Francia in 1440 and Prior General at the General Chapter of Avignon in 1451. He encouraged reform throughout the Order and travelled constantly around Europe, visiting the various communities. Contemporary accounts record his sense of humour, his courage, a gentle temperament and even that he enjoyed playing an occasional game of football!
From the earliest days of the Carmelite Order in Europe, women were attracted to Carmelite spirituality and some even made vows of obedience to a Prior. However, as early as 1261 the Carmelite Order obtained an exemption from supervising a corresponding Order of nuns and the extra responsibilities this would entail. In 1452 the Papal Bull Cum Nulla gave express permission for women to live the Carmelite Rule and therefore belong officially to the Carmelite Order. John Soreth encouraged this movement and sought to admit to the Order those communities of women already living a quasi-Carmelite way of life. With the help of Blessed Francoise d'Amboise, he founded the first Carmelite communities for women in France. Blessed Francoise received the Carmelite habit from John himself. The famous convent of the Incarnation in Avila, where St Teresa was to enter Carmel during the next century, was founded eight years after John's death.
The bull Cum Nulla also opened the way for the development of the Third Order or lay Carmel, which John also encouraged.
John Soreth died at Angers, France, in 1471 and was beatified by Pope Pius IX in 1866.
Source: The Carmelites: A history of the brothers of our Lady of Mount Carmel by Joachim Smet O.Carm (Carmelite Institute, Rome 1975)