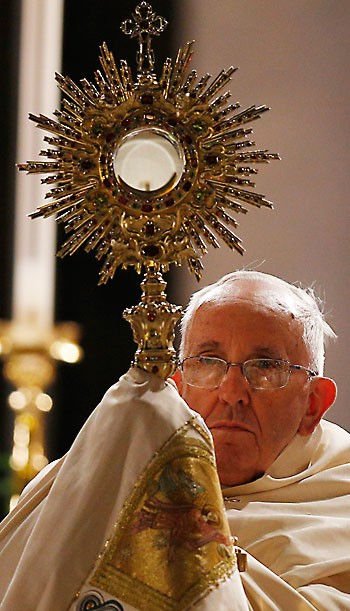 Excerpt from the works of St. Thomas Aquinas
"How precious and wonderful is this banquet, which brings us salvation and is full of all delight! ... No sacrament contributes more to our salvation than this; for it purges away our sins, increases our virtues, and nourishes our minds with an abundance of all the spiritual gifts. … Through [it] the sweetness of the Spirit is tasted at its source, and the memory is celebrated of that surpassing love which Christ showed in his passion."
Prayer
Lord Jesus Christ,
you gave your Church an admirable sacrament
as the abiding memorial of your passion.
Teach us so to worship
the sacred mystery of your Body and Blood,
that its redeeming power
may sanctify us always.
Who live and reign with the Father and the Holy Spirit,
God, for ever and ever.
Amen.