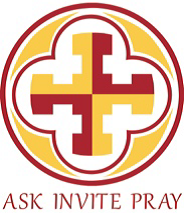 Called to Witness
A Vocations Event for young people (18+)
Saturday 4th May 2019, Feast of the Martyrs of England & Wales
WHAT IS IT?
This is a unique event for young people to help reflect and discern their own Christian
vocation, in the light of the lay and priestly martyrs of the English Reformation, in the
evocative setting of Harvington Hall.
Historian Professor Judith Champ will speak about the martyr tradition, presented in the
backdrop of 16th century England, with accounts of stories local to Harvington, about
family and community, witness and vocation.
Sr. Gemma Simmonds CJ will talk about the challenge of contemporary Christian life and
what forms 'martyrdom' takes today as we strive to live lives of witness to the Gospel.
WHERE IS IT?
Harvington Hall, Harvington, Kidderminster, Worcestershire, DY10 4LR.
COSTS
Only £10 per head for those attending to include refreshments.
Attendees will make their own way to Harvington and bring a packed lunch.
OUTLINE OF THE DAY (subject to change)
10:00 Arrivals – tea/coffee – Introductions
10:30 Talk: Prof. Judith Champ – Great Chamber
11:15 Split into two groups to do a "journey in faith" tour of Havington Hall, its grounds and
the Georgian Chapel
12:30 Mass for the Feast of the English Martyrs – Parish Church of St. Mary's, Harvington,
celebrated by Fr. Michael Dolman, Vocations Director
13:15 Lunch (bring your own) and drinks
14:00 Talk: Sr. Gemma Simmonds CJ
14:45 Discussion in four break-out groups: led by Archdiocese of Birmingham Seminarians
and Vocation Promoters, on questions provided by Prof. Champ and Sr. Gemma.
15:30 Plenary – Great Chamber
16:00 Holy Half-Hour: Prayer before the Blessed Sacrament – St. Mary's Parish Church
16:30 Tea and depart
FOR MORE INFORMATION
Call: 0121 321 5139 (Tharushi Jayakody) or 0121 321 5135 (Deacon Owen Gresty)
Email: office@vocations.org.uk
Visit: www.vocations.org.uk/events