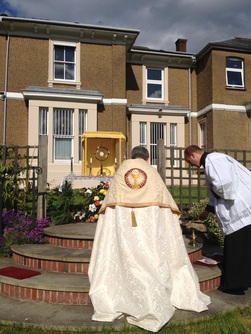 "How precious and wonderful is this banquet,
which brings us salvation and is full of all delight!"
~ St Thomas Aquinas
Corpus Christi is the great feast of Jesus' presence among us. In the year of faith (2013) we wanted to give it special importance. We thus celebrated it with a day of Eucharistic adoration, inviting as many of our friends as possible to join us. At the end of the day, as an expression of our joy, we had a Blessed Sacrament procession around our grounds and then Benediction at an outdoor altar. In this way, we were united in spirit with our Holy Father, Pope Francis, who was at that time carrying the Blessed Sacrament in procession through the streets of Rome.
Every day in Carmel, we spend two hours of silent prayer sitting or kneeling before the tabernacle, absorbing the power of Christ's love, in order to pour it out upon the world through intercessory prayer. In this way, we become channels of God's love and mercy. Friendship with Jesus is the 'inner spring' that nourishes the life of a Carmelite. In the man Jesus, we see the face of God made present. We become more fully human through devotion to Him. He is our companion, our way to the Father.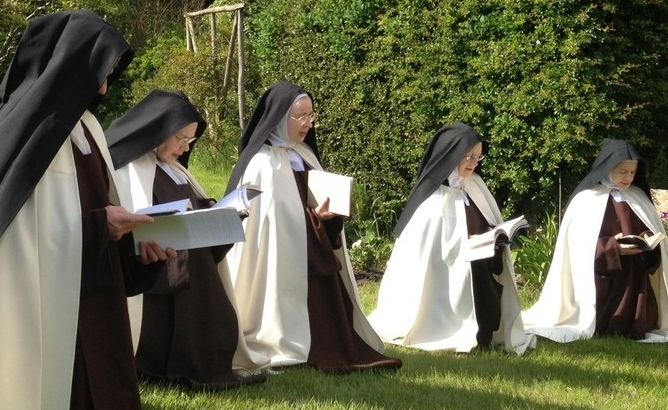 "Whoever lives in the presence of so good a friend ... can endure all things. The Lord helps us, strengthens us, and never fails; He is a true friend."
~ St. Teresa of Avila (Life:22,6)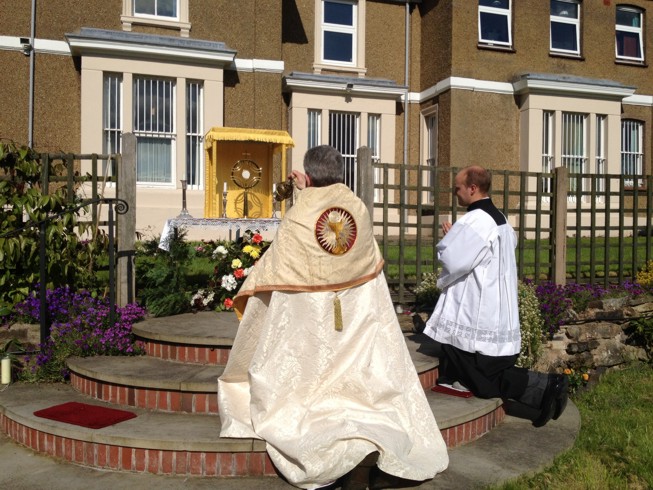 Prayer:
O God, who in this wonderful Sacrament
have left us a memorial of your Passion,
grant us, we pray,
so to revere the sacred mysteries of your Body and Blood
that we may always experience in ourselves
the fruits of your redemption.
Who live and reign with God the Father
in the unity of the Holy Spirit,
one God, for ever and ever.
Amen.