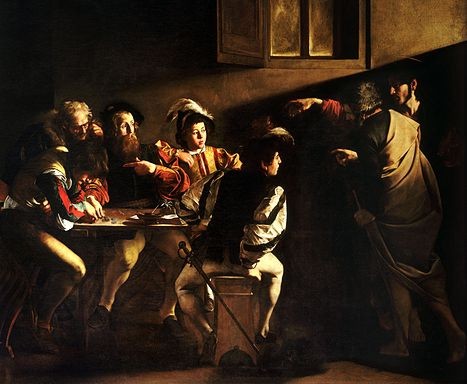 The Calling of Saint Matthew is a masterpiece by Michelangelo Merisi da Caravaggio, depicting the moment at which Jesus Christ inspires Matthew to follow him. It was completed in 1599–1600 for the Contarelli Chapel in the church of the French congregation, San Luigi dei Francesi in Rome, where it remains today. It hangs alongside two other paintings of Matthew by Caravaggio, The Martyrdom of Saint Matthew and The Inspiration of Saint Matthew.
The Call of Matthew - Matthew 9:9-13
As Jesus was walking on from there he saw a man named Matthew sitting by the customs house, and he said to him, "Follow me." And he got up and followed him.
While he was at dinner in the house it happened that a number of tax collectors and sinners came to sit at the table with Jesus and his disciples. When the Pharisees saw this, they said to his disciples, "Why does your master eat with tax collectors and sinners?" When he heard this he replied, "It is not the healthy who need the doctor, but the sick. Go and learn the meaning of the words: What I want is mercy, not sacrifice. And indeed I did not come to call not the virtuous, but sinners."